Hey all, the Las Vegas Open 2020 Age of Sigmar lists have now been released. The LVO is the first US major Age of Sigmar event for the year (and rounds out the previous year's ITC season). Hosted in Bally's Casino, Las Vegas, the LVO is a three day, eight round Age of Sigmar event with 130+ players, and a single-day Doubles tournament. You can read all my coverage of the unique event pack, or read on further for all the LVO lists from the event.
And, as always, check out Dark Fantastic Mills for great 3D printed terrain perfect for wargaming. Its super versatile and light so worldwide shipping is inexpensive. Use the "aos shorts" discount code for a further 10% off the already decent prices.
---
LVO 2020 Lists
The Las Vegas Open runs through the Best Coast Pairings app. The team at Best Coast Pairings have kindly agreed to share the list data with me as well as provide a full PDF of the lists. Follow along with the event over the weekend on Best Coast Pairings for live results and lists.
---
LVO 2020 Lists – Faction Breakdown
Here is a breakdown of which factions, artefacts and endless spells are being taken at LVO.
And with some additional sub-faction breakdowns.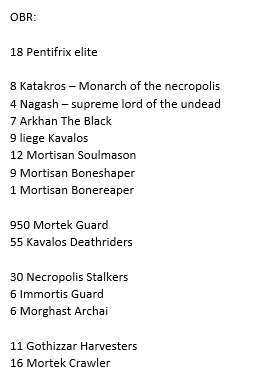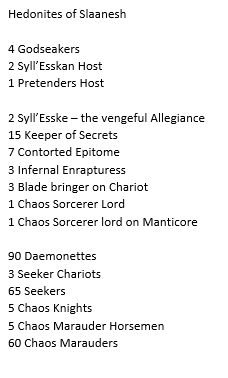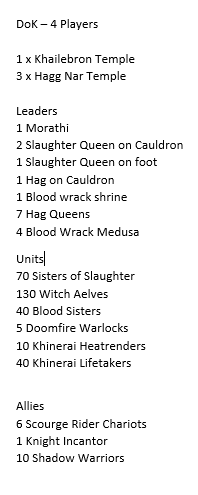 ---
LVO 2020 Lists – Who to Watch?
So what are the lists that last year's top 8 are bringing? Do we think they will repeat their great performance from a year ago?
The LVO 2019 top 8 knockout competitors were:
Bill Souza (Team America ETC captain) – Flesh-eater Courts
Andrew Standiferd (defeated finalist) – Stormcast
Jeff Paynter – Stormcast
Matthew Pashby – Idoneth Deepkin
Joe Krier – Disciples of Tzeentch
Roger Barker – Grand Host of Nagash (Team America ETC coach)
Alan Bajramovic – Grand Host of Nagash
Olivier Gandouet – Idoneth Deepkin
So who is back and what are they running? It turns out only Bill, Joe and Roger are back to defend their spoils so the field is open.
Bill is back running Blisterkin Flesh-Eater Courts this year, Joe has his beloved Tzeentch and a massive pile of endless spells (but no new Tzeentch book in play) and Roger has switched to the crazy green lads with Kunnin Rukk Bonesplitterz.
Now let's also have a look at some of the other Team America ETC players coming to LVO 2020. They are Greg Goede and Jeremy Veysserie. Greg is running Skaven and Jeremy is running Hermdar Fyreslayers.