The London GT 2019 was run and done this weekend with a massive crowd of gamers for the Warhammer Age of Sigmar, Warhammer 40,000 and Blood Bowl events. All at a brand new venue in London, the Lee Valley Indoor Athletics Centre (still complete with an athletics track 😉 ). The esteemed Marc Wilson organised the Age of Sigmar event and he is a dab hand at running large events smoothly. Marc's Bloodtithe international team tournament events have always had rave reviews.
In this post, I'll cover the London GT 2019 pack, the results and awards, the faction breakdowns, top lists and all the coverage.
As always, check out Dark Fantastic Mills for great 3D printed terrain perfect for wargaming. Its super versatile and light so worldwide shipping is inexpensive. Use the "aos shorts" discount code for a further 10% off the already decent prices.
---
London GT 2019 Pack
So let's check out the pack. The key details were:
2hr 45min rounds (a necessity I feel in current Age of Sigmar)
2,000 points
General's Handbook 2019
Only Warscrolls in 'Pitched Battle Profiles 2019', Battletomes released between June 22 nd – September 7th 2019, 'Season of War: Firestorm' and 'Forbidden Power' are valid.
Realm artefacts are in play.
Realm spells can be used (see below).
Realms of battle are not used.
Mercenaries are in play.
Scenery pre-rolled and placed by the organizers.
12 of the 18 Hidden Agendas will be used. Players must select 2 per game to use (and each can only be used once).
The battleplans and realms were announced on the day:
Round 1: Starstrike in Ghur (Amber Spear, Primal Hunter)
Round 2: Focal Points in Ulgu (Labyrinth, Aetheric Tenderls)
Round 3: Places of Arcane Power in Chamon (Curse of Rust, Rule of Burning Iron)
Round 4: Knife to the Heart in Hysh (Light of Battle, Vengeful Illumination)
Round 5: Total Conquest in Aqshy (Fiery Blast, Stoke Rage)
The London GT also hosted an Age of Sigmar Doubles Event on the Friday afternoon and event. A three round swiss event. The pack for that event is here. The event was taken out my Mr Donal Taylor and Mr Cunis.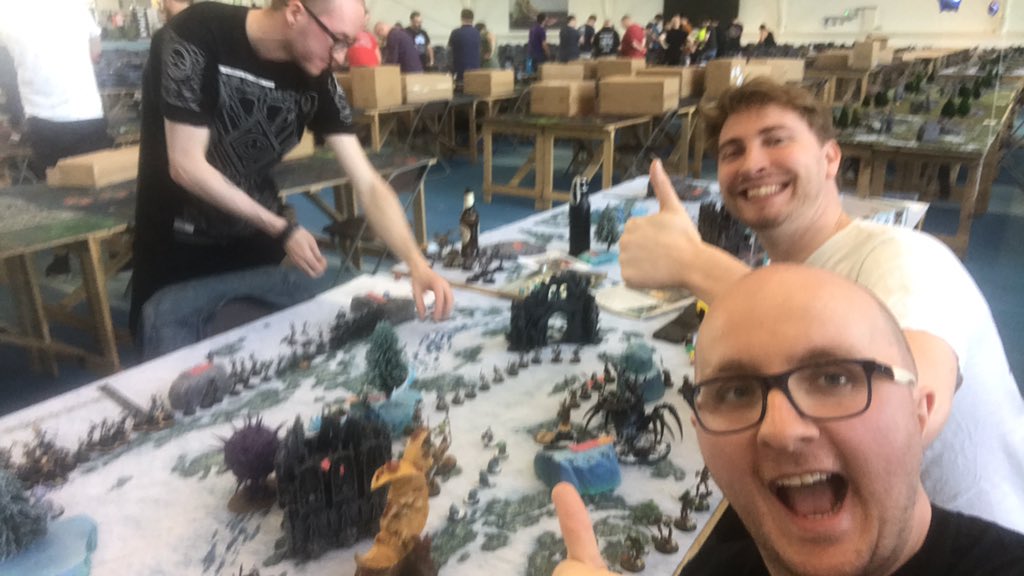 ---
London GT 2019 Results
So, the awards for the London GT 2019 were:
Best General – Piotr Kurkowski (Daughters)
Best General, 1st Runner Up – Darren Watson (DoT)
Best General, 2nd Runner Up – Philipp Kartaev (Fyreslayers)
Best Appearance – Jimbo (Stormcast)
Best Appearance, 1st Runner Up – Ming (Troggs!)
Best Appearance, 2nd Runner Up – Sam Saunders (Stormcast)
Most Sporting – Shared by Mitzy, Steve Curtis and Laurie HW
Best in Allegiance (too many to list)
Giant Killer (for anyone beating Darren Watson, last year's champ) – Not awarded as Darren went undefeated!
The 'Das Boot' Submarine commander (player with the best Sunday score) – ???
The full results for the London GT 2019 are up on Tabletop.TO but here are the highlights. The top 25 saw an impressive spread of 13 different factions. For all the gnashing of teeth about some of the 2019 factions, there is a strong competitive balance at the top end of the field. Factions in the top 25 were:
Daughters of Khaine
Disciples of Tzeentch
Fyreslayers
Skaven
Flesh-Eater Courts
Grand Host of Nagash
Idoneth Deepkin
Blades of Khorne
Ironjawz
Slaanesh
Sylvaneth
Stormcast Eternals
Seraphon
---
London GT 2019 Lists
The full lists for the London GT 2019 are available on Tabletop TO. However, the top four are:
First: Piotr Kurkowski (DoK)
Piotr is a top Polish player that has been smashing face with Daughters, Deepkin and Sylvaneth over the last year or so. He'll be looking to follow up this strong result with more trophies at the Age of Sigmar Grand Tournament Finals later this month.
---
Second: Darren Watson (Tzeentch)
Darren, Darren, Darren. Team England's darling and frequent sharer of Age of Sigmar tactical knowledge, both with his Honest Wargamer list diaries and his tactica on the Hampshire Hammerers blog and this site. Darren took the newly reinvigorated Changehost – partying like it is 2017.
---
Third: Philipp Kartaev (Fyreslayers)
Philipp brought the angry hot dwarves from Russia. He played Darren in game four in Knife to the Heart.
---
Fourth: Jack Armstrong (Skaven)
---
London GT Best Appearance
The Best Appearance categories at the London GT were taken out by those hobby stalwarts, Jimbo and Ming from the Realms at War crew.
Jimbo took out first place with his beautiful NMM Stormcast army. This army has really been a labour of love for Jimbo as he looked to push his skills to the limits and learn new tricks.
Ming brought the Dankhold, his narrative and beautifully painted Troggoth force. There was also a bit of flair from a UV torch acting as the Bad Moon and bringing out hidden details on his army.
You can see other pictures of the armies nominated for best painted in the gallery below.
---
London GT 2019 Coverage
There was full coverage across the weekend provided by the stream team at the Honest Wargamer. The crew for this event were Rob Symes, James Powell of the Scribes of War club in Stratford upon Avon, Scrivo and Donal Taylor.
All the games are available for free to watch back on the Honest Wargamer Twitch channel and Loonboss Donal provided roaming coverage on the Honest Wargamer Twitter account. I've also embedded the videos below.
Game 1: Skaven vs Sylvaneth
Game 2: Fyreslayers vs Beasts of Chaos
Game 3: Skaven vs Stormcast Eternals
Game 4: FEC vs Daughters of Khaine
Game 5: Skaven vs Disciples of Tzeentch
Age of Sigmar LGT Review