Hey all, the last post in my Adepticon 2019 series is covering the Age of Sigmar Championships held over 30/31 March 2019. 180+ players playing 2,000 point matched play Age of Sigmar in the halls of Adepticon, the world's premiere wargaming convention, just outside Chicago, USA. For more Adepticon 2019 coverage, check out:
And, as always, check out Dark Fantastic Mills for great 3D printed terrain perfect for wargaming. Its super versatile and light so worldwide shipping is inexpensive. Use the "aos shorts" discount code for a further 10% off the already decent prices.
---
Adepticon 2019 Championships
The Adepticon 2019 Championships is the largest Age of Sigmar event in the USA, with over 180 players this year. The key details of the pack are:
the new Blades of Khorne book is not in play
scenarios announced on the day
Malign Sorcery rules are in force – with each game being played in a pre-determined realm with a pre-determined realmscape feature (both announced on the day)
Hidden Agendas will be used as secondary objectives
---
Adepticon 2019 Results
And here are all the results!
First Overall – Samuel Gould (SERAPHON! USA! USA! USA!)
2nd – Adam Trunzo! (Skaven) – podium two years' running!
3rd – Ben Allen
Best Order – Liam Cook
Best Death – Bill Souza (FEC)
Best Destruction – Byron Orde!!!!
Best Chaos – James Pruesser
NB: lists are hand-submitted on the day for Adepticon events. I am trying my best to get copies of the lists from those that attended, and tracking people down on social media. I will update this post with the lists when I have them.
Sam Gould – 1st

Adam Trunzo – 2nd

Jeremy Tucker – 8th

Chai Tzola – 5th

Liam Cook – Best Order
Best Apperance – Jason Zayjac (Sylvaneth)
2nd – Oscar Lars (Stormcast)
3rd – Chris Slye (Idoneth Deepkin)
Players' Choice – Oscar Lars
2nd – Mitzy!
3rd – James Pruesser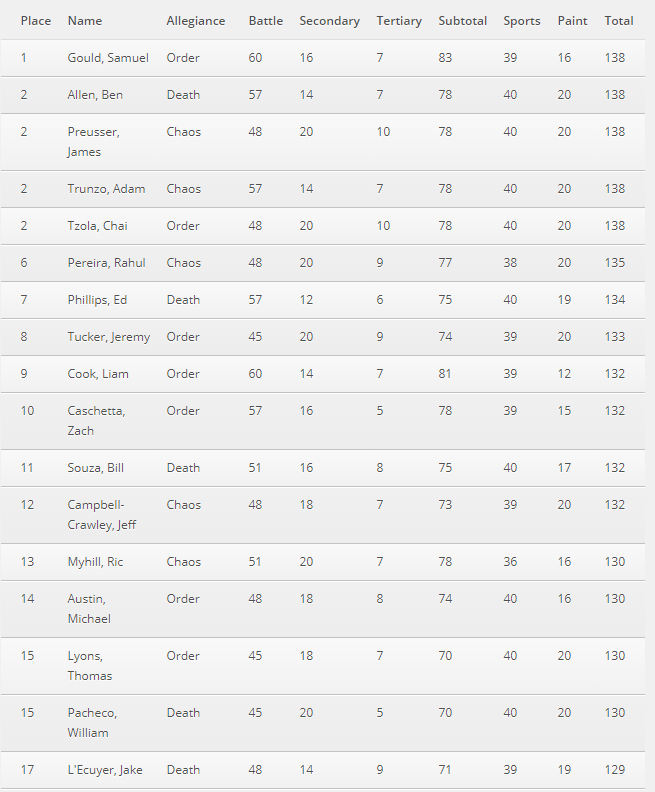 You can find the full results on Warscore.
---
Painting Nominations
Thanks to Jimbo at the event, here are galleries of each of the painting nominations at Adepticon 2019.
Anvils of Sigmar by Papa Andy (@NerdApprentice)
AZTech by @AlAztech
The Emerald Knights by Richard Joshua
Shadeth Klynn by @MSminis
Donnie's Tzeentch (@GLWL1)
The Force of the Seven Puppies by Oscar Lars
Chris Slye's Idoneth Deepkin
Rustfoot's Iron Moon Clobber Boys by Andrew Tolstedt
The Huntspinney of Sequoyya by @Jimbo9Jimbo
The House of the Flying Daggers by Martin Orlando
The Black Procession by Tyler Mengel
Legion of Blood by David Griffin
The Lords of the Fly by Mike Butcher
Sylvaneth by Jason Zajac
Valar Morghulis by Tom Lyons of Warhammer Weekly.
Court of the Carrion King by Tony of Warscroll Builder